Clamp end Sight glass
Clamp end Sight glass
Designation
| NO | Part name |
| --- | --- |
| 1 | Body |
| 2 | Seal |
| 3 | High press clean glass |
| 4 | Nylon lock nut |
| 5 | Screw blot  |
Composition
| Content | SiO2 | Al2O3 | F2O3 | B2O3 | Na2O | K2O |
| --- | --- | --- | --- | --- | --- | --- |
| % | 80.9 | 2.3 | 0.03 | 12.7 | 4.0 | 0.04 |
Physical Properties
Description
Value
Spectific heat (25°C)
Average(25-400°C)
0.17 cal/g.°C
0.233 cal°C
Thermal Conductivity (25°C)
(100°C)
0.0026 cal/cm.sec°C
0.0030 cal/cm.sec°C
Linear coefficientof
expansion(0-300)
32.5-10-7/°C
Density
2.23g/cm3
Materials
Steel parts: Stainess steel

SS304 or SS316L

Screw blot: Stainess steel SS303.
Seal rings: EPDM rubber or Silicone,viton
Finish: Semi bright.
Ordering
Please state the following items when ordering:

Size.
Steel grade, AISI 304 or AISI 316L.
Rubber grade if not EPDM.
Specification
Clamp end Sight glass
Size
ID
mm
OD
mm
L
mm
1.0"
22.1
50.5
136.5
1.5"
34.8
50.5
136.5
2.0"
47.5
64
136.5
2.5"
60.3
77.5
136.5
3.0"
73
91
136.5
4.0"
97.6
119
176.5
TAG: 管束,
立即聯絡EFT
相關產品
熱門推薦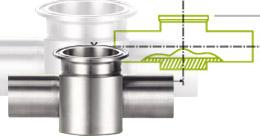 ASME BPE Tubes and components serve the needs of those involved in the BioProcessing, Pharmaceutical, and Personal Care Product industries.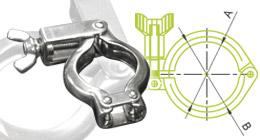 Clamp Style Fittings are most popular for easy assembly and breakdown of process lines and equipment. EFT offers Clamp Fittings in 316L materials in 1.5˝ through 8˝ sizes.Gaskets for Clamp Fittings are available in several different materials, EPDM, Silicone, Vition®, and Viton®. Lightweight and heavy-duty clamps complete the unions. EFT's Clamp Fittings meet all 3A requirements.
EFT Clamp end Sight glass服務簡介
詠晟科技股份有限公司是台灣一家擁有超過36年經驗的專業Clamp end Sight glass生產製造服務商. 我們成立於西元1976年, 在食品, 飲料, 乳製品, 釀造廠, 半導體, 製藥業, 生化科技工業領域上, EFT提供專業高品質的Clamp end Sight glass製造服務, EFT 總是可以達成客戶各種品質要求