Blank Stubs Flange
Materials
Materials S.S.304, 304L, 316L and Sizes can be customized per customers'designs and requirements.
Specification
| Size | A | L | Parts No. |
| --- | --- | --- | --- |
| KF10 | 19.05 | 19.05 | SASB-0400 |
| KF16 | 19.05 | 19.05 | SASB-0600 |
| KF25 | 25.4 | 19.05 | SASB-1000 |
| KF40 | 38.1 | 25.4 | SASB-1400 |
| KF50 | 50.8 | 25.4 | SASB-2000 |
KF FLANGE CONNECTION WITH CLAMPS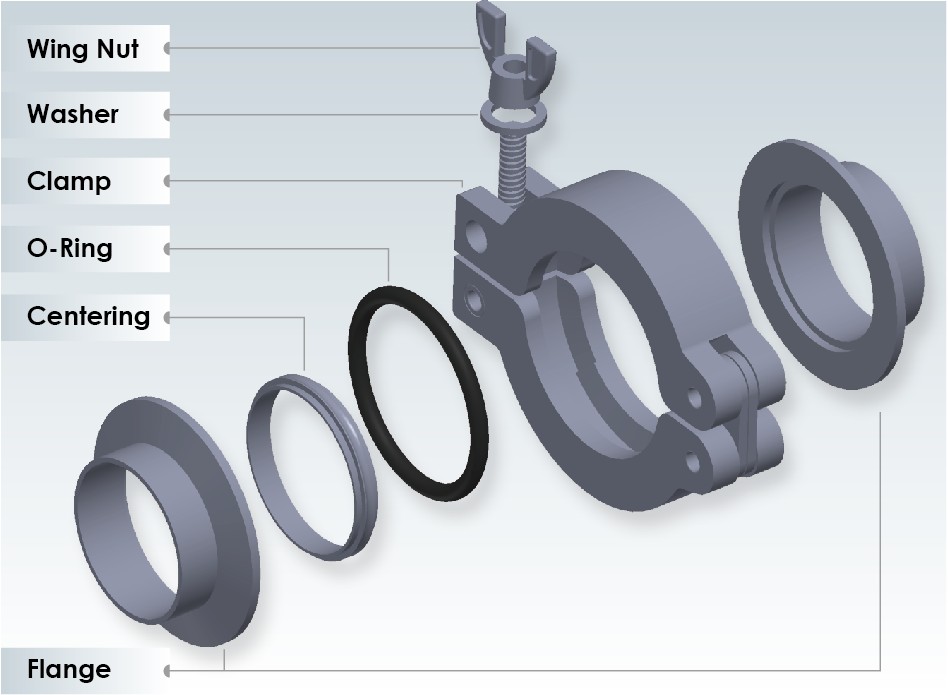 Characteristic:
Easy Assembly and Quick Disassembly manually without tools-KF or NW assembly comprises two flanges, a center-ring, an O-ring and an aluminum clamp or stainless steel clamp with a wingnut fastener for quick and fast connection.
Uniform Pressure to Effect Vacuum Seal Connection-15° taper surface of KF/NW flange allows uniform pressure to compress an O-ring, which is held in place by metal center-ring, by the clamp to generate a vacuum seal.
Material and Size
Flanges, Blanks, Fitting: Material S.S.304
Clamps: Material Aluminum or S.S. 304
O-ring : Material Viton
Sizes: KF10~KF160, JIS Standard: NW10~NW100
Related Products

---
Best Sale
Vacuum Component | KF Blank Stubs Flange Manufacturer - EFT
Based in Taiwan, EVERFIT TECHNOLOGY CO., LTD. is a KF Blank Stubs Flange | vacuum component supplier for various industries, including semi-conductor, pharmaceutical, bio-technology, cosmetics, food processing and structural engineering. Main product: 316Ti Stainless steel pipe, progressing cavity pump part, pipe tee fitting, valve actuator component, diaphragm valve, ferrule, KF flange, etc.
5,500 square meter plant, cleanroom (class 10,000) and ultra-pure water system to deliver the cleanest pipe fittings. Between the robot arm and adjustment of fixture and jig, EFT is moving toward to becoming a manufacturer of pipe fittings with high technology.
EFT has been offering customers high-quality stainless steel vacuum components since 1976, both with advanced technology and 39 years of experience, EFT ensures each customer's demands are met.